WALT WHITMAN'S CALAMUS AT 150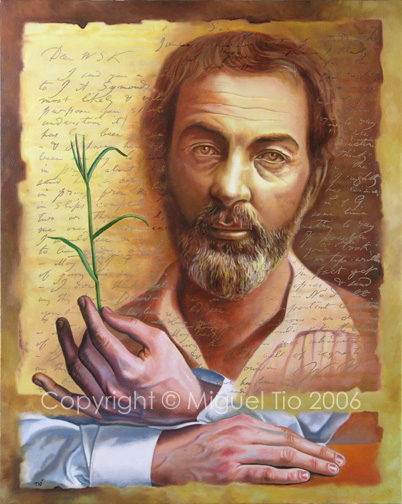 A group show celebrating the 150th Anniversary of the publication of the Calamus edition of the Leaves of Grass
441 West 26th St., NYC 212-760-9837
April 15 - June 1, 2010
Opening reception: April 15, 6-8 PM
Viewing hours: Tuesdays-Fridays 10 AM-7 PM
Saturdays 1 PM-4 PM
New York, NY, March 12, 2010 –
Hudson Guild is pleased to present Walt Whitman's Calamus at 150, a group show celebrating the 150th Anniversary of the publication of the Calamus edition of Leaves of Grass. The exhibit is organized by Jim Pavlicovic and Jim Furlong. Whitman's third edition of the Leaves of Grass contains his most celebrated collection of homoerotic poems called Calamus. With this publication he invented a language of homoeroticism that laid the foundation for American gay poetry.
The twenty-one artists in the exhibition have honored the poet in a wide ranging depiction of images.
Duane Michals, who has published a book of photographs commemorating Whitman, will exhibit a work from that book based on Whitman's activity as a nurse in the Civil War. Keith Batten, Peter Harvey, Jonathan Ned Katz, and Miguel Tio depict the poet in portraiture. Larry Schulte has honored two other gay artists as "saints" in iconic settings. Kendall Shaw, Mercedes Head, Ross Bennett Lewis, Manetto-Pieri and Miles Ladin display the beauty of the male figure that inspired Whitman's life and work. Andy Warhol's work is a rarely seen unique print from the Rainer Werner Fassbinder movie, Querelle, based on Jean Genet's novel. To many admirers and scholars, the Calamus edition became a new bible for American poetry and Jim Pavlicovic has created an altar to the reading of the book. Kay Town's work looks at the water between Brooklyn and New York celebrating Whitman's poem, Crossing Brooklyn Ferry. John Azelvandre, Richard Hatter, Peter Ketchum, Nancy Mahoney, Manetto-Pieri, Julien Mykel, James Schlechter and Carolyn Weltman depict elements that surrounded the world about Walt Whitman as a gay man in mid 1800's. This unique exhibition is a testament to the lasting power of these poems.