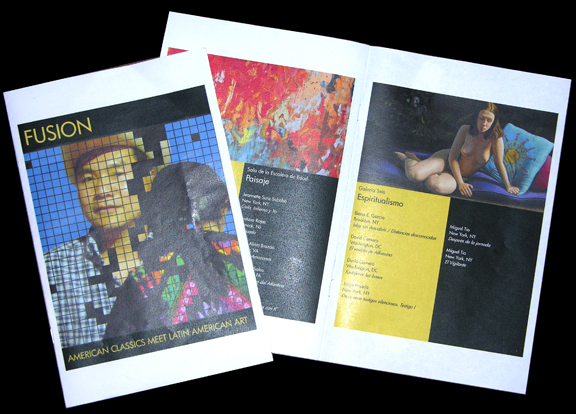 Fusion: American Classics Meet Latin American Art
September 15, 2009 – October 15, 2009
Exhibition of Hispanic Art from the Mid-Atlantic Region
Galleries Two through Six
Introduction:
Fusion: American Classics Meet Latin American Art celebrates the comparison of artworks created by two parallel and often overlapping cultures within the Mid-Atlantic region. The Fusion exhibition, displayed in Galleries Two through Six, creates a conceptual bridge between contemporary art forms by Mid-Atlantic Hispanic artists and the regional historic fine and decorative arts of the Museum's permanent collection.
The Biggs Museum's historic collections in Galleries Two through Six represent some of the finest art forms created by popular Mid-Atlantic artisans, often of British ancestry, from the 1700s and 1800s. These artisans created art forms and luxury goods largely derived from fashionable English prototypes. In contrast, the Hispanic art forms of the Fusion exhibition reveal the point of view of regional artists, working today, who descend from Spanish-speaking people.
The juxtaposition of artworks from different periods expressing different cultural roots is both visually striking and extends an opportunity to discuss approaches to universal themes in art.
"The Latino art at Biggs, just as the Latino presence in America, will fill the spaces between the centuries-old furniture. From the first colonial settlement in America at San Agustin, 60 years earlier than the Plymouth pilgrims, to the more modern pieces of Delawareans today, Latinos have always been around creating, working, fighting --just as the these paintings express." - Charito Calvachi-Mateyko
Visitors are encouraged to compare these singular forms while thinking about themes of spiritualism, self expression through landscape, classicism, urbanism, and the representation of daily lives of ordinary people.
The Board of Trustees and Staff of the Biggs Museum of American Art are grateful for the opportunity to display art works provided by the Governor's Advisory Council on Hispanic Affairs. We would also like to acknowledge the assistance of Magda Korn and Charito Calvachi-Mateyko for their expertise in the selection process of artworks for this exhibition.
"This year we are very lucky to have representation from countries such as Argentina, Ecuador, Chile, Colombia, Dominican Republic, Puerto Rico, Mexico and Venezuela. Each artist tells a different life story and shows a different personality and influence, however the vibrancy of color is prominent and the theme is common: Our Hispanic heritage!" - Magda Korn