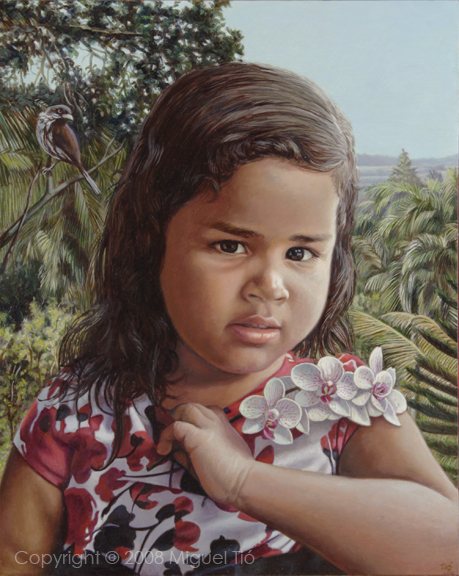 "Isbel"
Mische Technique on masonite
20"" x 16", 2015
Not available for sale
July 2015
Some years ago, I went into one of the schools I teach at and discovered that my students had a play at the same time my class was scheduled. Since they were performing in the auditorium and I didn't have much to do, I went to see the performance. They were my students for three years and were now third graders. The auditorium was full of parents but I found a seat not far from the exit door.
The dance was not perfect but I knew it probably took a lot of practice for them to learn the steps and synchronization. What can you expect from third grade students?
However, when my students came up to the stage and started their dance... My eyes became teary with the emotion! As I realize how I emotional I became, I mentally screamed at myself: "This is why I didn't want to get too involved in teaching!" and "This is just a job!" I felt like slapping my own face. Even though I love teaching the little ones, I didn't want to feel overly connected to the connotation of teaching early childhood. I thought that it must have been the energy of so many parents together.
I quickly walked out of the auditorium, not recognizing myself, and seriously reflected. I didn't want this emotion to influence my work. I didn't want this factor to influence my paintings in the future. I created paintings like "Attitudes" and "Hands from the Dark Side." When I created my catalog for my solo show "Attitudes" appeared on the cover. I mailed the catalog to a relative and was later told that he had to hide it so that none of his children would see. I thought it was ridiculous and I still do.
That was my thinking some years ago, and I was right to be concerned. My paintings did change after that and I have done child portraits. Paintings such as "Unseen Company" portray a child and an angel, inspired by Lilly, the daughter of a very dear friend. In my show at Williamsport, it was the preferred painting even though it was not my best work. However, for the parents that went to see the show, it was their favorite.
Now I finished this portrait of my beautiful niece, Isbel. Last time I was in the Dominican Republic, she was interested in learning to paint so we had a great time painting together on different occasions. The background is from Guanuma, a place in the Dominican Republic where her parents have a house, the bird in the background is a Palmchat (Cigua Palmera), which is the national bird in the DR. I enjoyed painting her little face so much! It took me a couple of years to finish it, from the moment I took the reference pictures. Her face has changed since now she is 6 years old. However, I will always remember her little face like this. There is something powerful about creating an image of someone you love; the image stays like a tattoo in the memory of the artist.
Copyright © by Miguel Tió