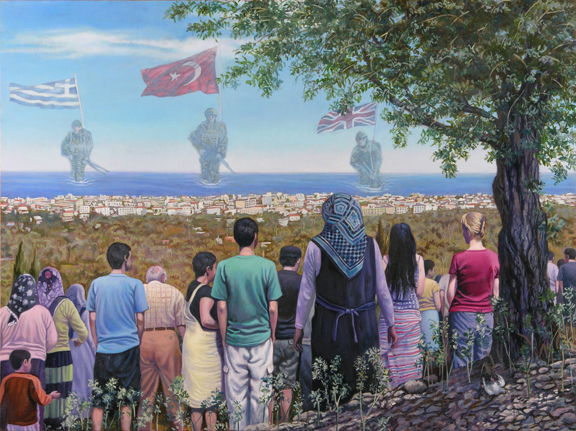 "Prayer for Cyprus - 2"
Mische Technique on masonite
18"" x 24", 2009
December 2009
Last year I had the opportunity to go to North Cyprus; I was invited along with four other artists to participate in a workshop. We were going to create an artwork by using the symbol of the Olive tree which for the Cypriot people has been a traditional symbol of peace and sanctity for centuries.
I went there and I felt in love with the country and its people; Our host was the talented sculptor Sevcan Cerkez, she made us feel at home with her lovely personality and great creative mind; now I am happy to count her among my close friends.
I didn't have any idea of what I was going to paint, we had an olive tree in the back yard and I soon realized that we could see olive trees wherever we went. The space for the workshop was in a mountain and it used to be a restaurant and it had a big terrace with a view to the city; immediately we walk in, we stood there appreciating the view…For me the scene of the artists looking at the city of Kyrenia gave me the idea for my painting. In the final work I included each one of the artists on the painting.
I only had a few days to complete my painting and I knew that a work on the Mische technique was going to take too long but I hoped that a solution would come along the way…Oh well, it didn't. I was not able to complete my work, and it was exhibited unfinished.
I wanted to do another version of the painting since the original stayed at the municipality in Kyrenia but for this one I had all the time that I need to rethink and complete the work…Here is the second version.
Copyright © by Miguel Tió